The Difference Between Plastic Surgery & Cosmetic Surgery
Many people use the terms cosmetic surgery and plastic surgery to mean the same thing. And many plastic surgeons like Dr. Ali do focus their practice on cosmetic surgery.  But while cosmetic surgery and plastic surgery are closely related specialties, they are technically not the same thing – and the terms cannot be used interchangeably.
In this article, the experts at AMAE Plastic Surgery in Birmingham, MI explain the difference between plastic surgery and cosmetic surgery.
Cosmetic Surgery is a "Sub-Set" of Plastic Surgery
Both cosmetic surgery and plastic surgery are medical specialties that are aimed at improving a patient's body, but the training involved is actually different.
Plastic surgery is a surgical specialty dedicated to reconstruction of the face and body to repair defects caused by birth disorders, accidents, trauma, burns, and disease. For example, plastic surgeons repair cleft pallets in children, or reconstruct breasts after a mastectomy due to cancer. According to the American Society of Plastic Surgeons "plastic and reconstructive surgeons are one in the same."¹
However, cosmetic surgeons, are trained plastic surgeons who then complete additional training to perform cosmetic surgery as well.
Plastic surgery training is completed by a physician through a post-graduate residency program via one of two routes:
Residency training that combines three years of general surgery and three years of plastic surgery or;

A five-year residency program in general surgery followed by a three-year plastic surgery residency program.
"Board Certification" for a plastic surgeon is awarded by the American Board of Plastic Surgery after completing their residency and passing both a written and oral exam testing their procedural knowledge.
The residency training required to become a board-certified plastic surgeon may or may not include cosmetic surgery procedures training.  But, in the United States there are currently no residency programs that are devoted exclusively to cosmetic surgery.
So, cosmetic surgeons obtain training and experience in cosmetic surgery after completing their plastic surgery residency. Typically, this is done by completing a post-residency fellowship training program in cosmetic surgery.
See the pie chart below, to see how cosmetic surgery is a "subset" of plastic surgery.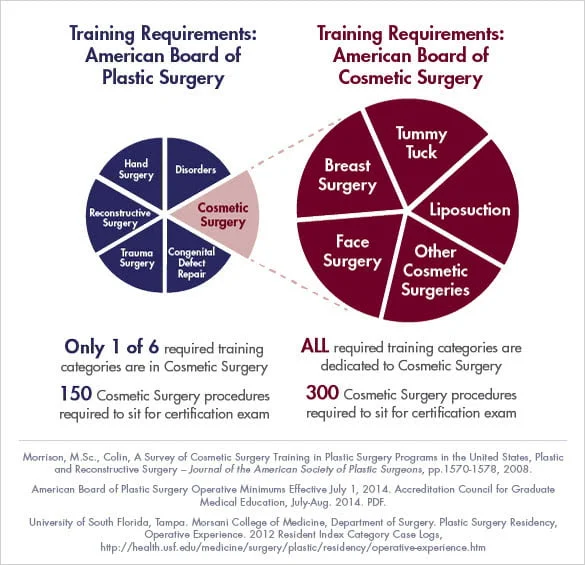 Graphic Provided By: ABCS
Cosmetic Surgery is Focused on Appearance
The surgical procedures and techniques of cosmetic surgery are focused solely on enhancing a patient's appearance – rather than restoring function or repairing a defect due to accident, injury, illness, or birth defect.
Cosmetic surgery is generally aimed at improving aesthetic appeal, symmetry, and proportion are the key goals. In some cases, this involves reversing the appearance of aging. Cosmetic surgery is "elective" – unlike most plastic surgeries which are medically indicated. Cosmetic surgery can be performed on all areas of the head, neck, and body to improve appearance.
Types of Plastic Surgery Procedures:
Breast Reconstruction

Burn Repair Surgery

Cleft Palate Repair

Scar Revision Surgery
Types of Cosmetic Surgery Procedures:
Breast Augmentation, Breast Lift, Breast Reduction

Facial Surgery: Rhinoplasty, Chin, or Cheek Enhancement

Anti-Aging Surgery: Facelift, Eyelid Lift, Neck Lift, Brow Lift

Body Contouring: Tummy Tuck, Liposuction, Gynecomastia Treatment
Cosmetic Surgery | Birmingham, MI
Because any licensed physician can 'legally' perform cosmetic surgery, regardless of how much cosmetic surgery training or experience they have, it is extremely important to do your research when choosing a cosmetic surgeon. When selecting the most qualified surgeon for a specific cosmetic procedure, compare the doctors' overall training, board-certification, years of experience, and proven results with regard to that specific cosmetic procedure.
Remember, a board-certified plastic surgeon like Dr. Ali has completed the training, residency and written and oral testing to ensure they are qualified to reconstruct the face and the body.
Dr. Ali is both a board-certified plastic surgeon, a member of the American Society of Plastic Surgeons, and a Fellow in the American College of Surgeons. He has performed more than 7,000 cosmetic and reconstructive surgeries.
Cosmetic Surgery | Birmingham, MI: 248-335-7200
.
Resources:
¹http://www.plasticsurgery.org/articles-and-galleries/history-of-plastic-surgery.html
Morrison, M.Sc., Colin, A Survey of Cosmetic Surgery Training in Plastic Surgery Programs in the United States, Plastic and Reconstructive Surgery – Journal of the American Society of Plastic Surgeons, pp.1570-1578, 2008.
https://drali.com/wp-content/uploads/2021/01/lw2-plastic-surgeon.png
0
0
admin
https://drali.com/wp-content/uploads/2021/01/lw2-plastic-surgeon.png
admin
2022-10-22 05:08:36
2022-12-02 04:19:44
Are Plastic Surgery & Cosmetic Surgery the Same?